According to
this quiz
:
My Political Views
I am a right social moderate
Right: 4.95, Authoritarian: 0.66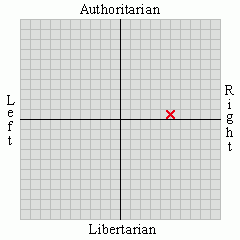 Political Spectrum Quiz
Actually, I've mellowed over the years. I'm now right on the border between Libertarian and Authoritarian - when I was younger, I would have been very comfortably in the middle of the Authoritarian quadrant. But I think the freedom of speech issues have pushed me further to the Libertarian side, while moral questions still pull me the other way.